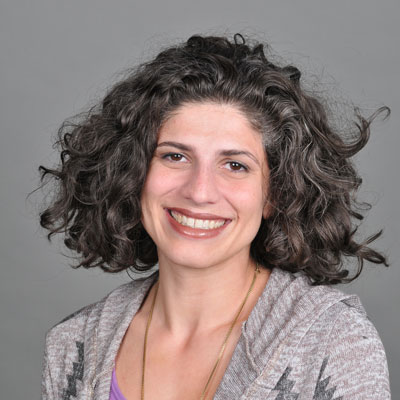 Favorite food: Spanakopita

Favorite movie: Babette's Feast

Favorite HS experience: The hands-on physiology class which had us exploring heart and lung functions with sheep organs

Favorite performing arts memory: Performing for and getting feedback from the great mime artist Marcel Mareau.
Eleni Papaleonardos teaches courses in acting, physical theatre, and devising. She often directs immersive, site-specific, and interactive productions which break the constructs of traditional realist theatre. She apprenticed at Actors' Theatre of Louisville, studied Theatre at the Ohio State University, and was a member of the first M.F.A. company in Contemporary Performance at Naropa University. At Naropa she studied devising techniques with prominent innovators including Barbara Dilley, members of Meredith Monk's the House, SITI Company, and Tectonic Theatre Project. Eleni joined Columbus-based Available Light Theatre (AVLT) in 2008 and has served as Artistic Director since 2015. With AVLT, she performed, directed, devised, and led the artistic vision of the company including programming the company's seasons of artistic work. A dual citizen of the USA and Greece, Eleni teaches across languages and cultures, exploring physicality and imagery that may not be as accessible when working only in English. Her teaching is devoted to and rooted in the experimental nature of the rehearsal room as laboratory and the value of failure. Eleni focuses on embodiment as a grounding principle in performance and places this work in the context of students' future lives as artists and citizens. She seeks to create a culturally responsive, trauma-informed, and consent-based classroom where she encourages students to work from where they are each day to unlearn the ideas of scarcity, competition, perfectionism, disconnection/disembodiment, and product-focused practices.
Education:
B.A., Ohio State University; M.F.A., Naropa University
Position:
Artistic director at Available Light Theatre, professor