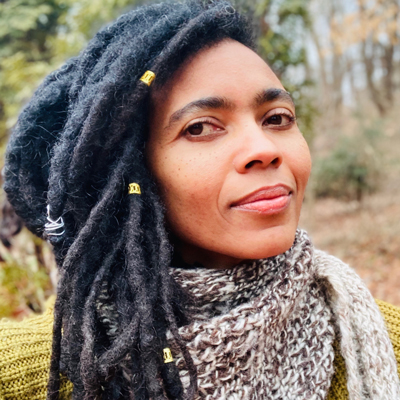 Favorite food: Bean burritos with freshly made salsa and tortillas

Favorite movie: Whale Rider

Favorite HS experience: Learning Spanish

Favorite performing arts memory: Taking a dance class with the legendary Katherine Dunham and performing at the BlakDance festival in Australia
Ojeya Cruz Banks is passionate about dance teaching, choreography, ethnography, and dance film with a focus on dances of the African diaspora. Her research combining African and Pacific lineages is inspired by her identity as a Pacific Islander (Guåhan/Guam) and African American with roots in Alabama, Kentucky, and Louisiana. For over a decade, she worked as a Senior Lecturer at the University of Otago in Aotearoa/New Zealand. This is where she developed an interest in Black Pacific dance intersections. Her choreographies and publications include topics such as African diasporic dance, West African dance (Guinea & Senegal), Pacific Island dance as critical, spiritual and cultural health, and indigenous education and performance. She advocates for decolonizing dance pedagogies; and has studied dance in Guinea, Senegal, Kenya, Uganda, Tanzania, Zanzibar, and in Cuba. She has also taught dance around the world in places such as Bali, Fiji, Uganda, Ethiopia, and Australia. Her influential teachers include Katherine Dunham, Donald (Eno) Washington, Moustapha Bangoura and Youssouf Koumbassa, Tacko Sissoko and Simone Gomez. In 2012, she was a selected for the Professional Choreographer's Lab at the Jacob's Pillow School of Dance, Pacific Dance Choreographic Laboratory (Aotearoa). Dr. Cruz Banks was also the keynote speaker and choreographer for the award-winning 2012 BlakDance festival in Australia. Her short dance film titled Tåno/Land premiered at the 2016 Pacific Arts Festival and her choreographic project called Africa in Aotearoa nominated for best dance performance in the 2017 Dunedin Fringe Festival. Recently, her collaboration with acclaimed movement artist Lela Aisha Jones was featured in the short dance film Original Spaces that was curated at the Gibney center in New York City. In 2019, she joins the faculty of Dance at Denison University as an Associate Professor of Dances of the African diaspora.
Education:
B.A Women's Studies & Africana Studies, University of Arizona, M.A Multicultural Education, University of Arizona, Ph.D Language, Reading and Culture in Education, University of Arizona
Position:
Dancer & Professor