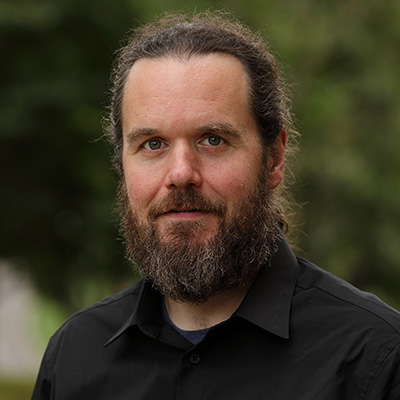 Favorite food: Korean Barbeque

Favorite Movie: Young Frankenstein, or maybe the whole Lord of the Rings trilogy

Favorite HS experience: Friday night football tailgating

Favorite performing arts memory: Conducting my first opera (Lehar: The Merry Widow) when I was 24- there's nothing like the thrill of a big collaborative work!
Philip Rudd joins the Denison University faculty after completing doctoral studies in orchestral conducting at the University of Iowa. As a wide-ranging and experienced musician, Dr. Rudd is equally comfortable in educational, liturgical, orchestral, choral, and theatrical settings. He holds a Bachelor of Music Education degree from Millikin University, and completed his Master of Music degree in orchestral conducting at Illinois State University in 2009. Dr. Rudd has extensive experience as a guest conductor and clinician, appearing with the Iowa Junior All-State Orchestra in 2014 and, in his professional debut, with the Fox Valley Orchestra in Illinois in 2015. His DMA dissertation research examined the influence of gender and class politics on the development of late-Victorian English women's orchestras, focusing on the remarkable life and career of Helen, the Countess of Radnor, and her all-women's orchestra of the 1880s and 1890s. Past engagements have included assistant conductor and manager of the University of Iowa Orchestras and the Illinois State University Orchestra, associate conductor of Illinois State University Opera, and music director of Illinois Wesleyan University Opera. Dr. Rudd served for nine years as the conductor of the Central Illinois Youth Symphony's Concert Orchestra, and maintains an active relationship with the ISU String Project. Previously, he directed the three orchestras of Wheaton North High School in Illinois, along with directing all productions in the theatre program, while also serving as director of choral and instrumental ensembles at St. John Lutheran Church in Wheaton, Illinois. Principal past conducting teachers have included Dr. Glenn Block, and Dr. William LaRue Jones, with additional studies with Dr. Karyl Carlson, Kenneth Kiesler, and Dr. Victor Yampolsky, and violin studies with Georgia Hornbacker, Dr. Sarah Gentry, and Dr.
Position:
Orchestra conductor, professor